As requested, a thread for Taylor Swift's luxury planes, lavish Barbie Doll dreamhouses, and sekrit wife/wives, etc.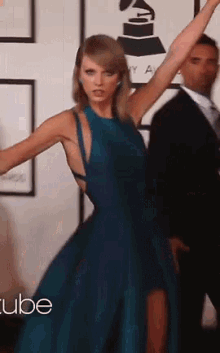 Kicking this off with info about her two private planes, as one is wont to do:
In 2011, she bought a Falcon 900 (rumored $40 million), which she had painted to look like this:
Taylor is obsessed with certain numbers, which is why there is a 13 near the door, and the tail number includes '89'.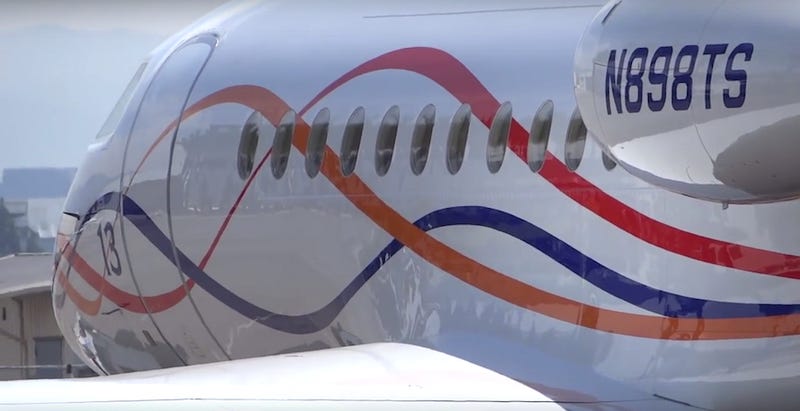 On the nose of the jet, you can see the number "13." This is Swift's favorite number, and oddly enough, before every show, she draws it on her hand. She has profound reasoning for 13 being her favorite, stating, "I was born on the 13th. I turned 13 on Friday the 13th. My first album went gold in 13 weeks. My first number one song had a 13-second intro," she said. "Every time I've won an award I've been seated in either the 13th seat, the 13th row, the 13th section or row M, which is the 13th letter."
But perhaps she thought it was too flashy and not stealth enough, so it has been repainted in gray:
She has used this plane to fly boyfs around a fair amount.
The jet has 12 seats, which means she has plenty of room for her entourage when she tours—or, simply to scoop up her boy toy du jour. Page Six reported that Swift flew Conor Kennedy on the jet from the Hyannis Port Kennedy family compound to her hometown of Nashville, simply because she "missed him" after not seeing him for merely a week. God forbid he have to take a commercial flight! We feel his pain.

On December 8, her current boyfriend Harry Styles performed with his band One Direction at London's Jingle Bell Ball, and he arrived in England on Swift's jet. They had been spending some time together in New York City, hitting up hotspots like the Crosby Hotel and the Dream Downtown, and when it was time for him to head back home, she insisted it be with her—and not with his bandmates. The rest of the boys were spotted at Heathrow after taking a commercial flight (again, the horror).

Her first time on a private jet may have been a couple years prior to this purchase thanks to Jake Gyllenhaal. He flew her out to London back in 2010, and in her recent single "I Knew You Were Trouble" she references a bad boy "flying her to places she'd never been." We can only speculate, but our guess is she got a taste of the mile-high life thanks to the dashing actor.
And of course . . .
Probs not Calligraphy Haggis that often though, because he has his OWN private plane. Yes, they were a three plane family while together.
An F-900's interior generally looks something like this:
But Taylor's is probs customized a lot. I read somewhere that she had the seats covered in 100% cashmere, but I dunno that sounds kinda itchy and hard to clean?
She also owns a Falcon 50, which is newer but also smaller. They generally look like: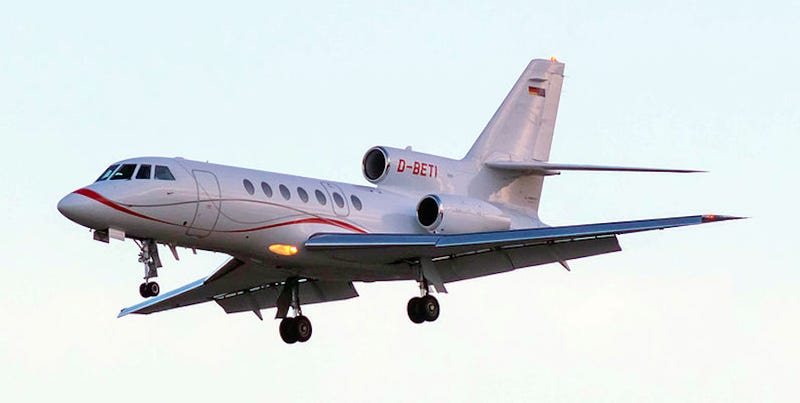 But I didn't track down a pic of hers, and found no info on how much she paid for it. She parks both of her jets in her own hangar in Nashville, and uses them like a town car.
No, this isn't one of Tay's planes, but it is a pic of Taylor in front of the Air Asia plane that was painted in her honor, and I include it because my life's dream is that eventually someone will paint me all over a ginormous plane, why not:
I do have something from last weekend that fits more planes and gayspriacy, kinda . . her little jet (the F-50) went Nashville -- NYC -- Rhode Island, parked there a couple of days and then went NYC-- Nashville, which suggests she flew her parents and herself to High Watch for the weekend, and then everyone back home again. The reason this made the K'lors happy was that the tail number wasn't logged. So they used that as an example that sometimes her jets don't log their tail numbers on flight plans and THEREFORE Taylor could have gone fly fishing in Colorado (Wyoming? Montana?) when Karlie was doing so a few weeks ago . . . but as non-K'lors pointed out, there were NO F-900s orF-50s logged as going from that hangar in Nashville to where Karlie was vaca-ing, and fuck the reflection in the spoon, y'all are reaching.
But here's something they AREN'T reaching on . . .
Here's Tay strolling around NYC yesterday (checking on the lavish renovations of her lavish apartment, actually) . . . followed by one of her bodyguards, as per usz.
And Karlie, also in NYC on Wednesday . . . followed by the same bodyguard, not as per usz.
This can only! mean! one! thing! . . . . OMB, KARLIE IS CHEATING ON JOSH WITH ONE OF TAYLOR'S BODYGUARDS.
(Or that Taylor and Karlie went to a gym together earlier in the day but somehow didn't get fully papped).
The 'why they didn't get papped in the same frame' theory is that Tay is not super keen to be seen too publicly with Karlie right after Ivankagate, which is possible.
Also, they both wore stripey clothes yesterday, which means they are MARRIEDS. I realize that it must be so exhausting to pick out your clothes every day based on what secret message you want to send to the only truly faithful fans WHO SEE THROUGH THE HETERO CHARADE but that is, apparently, the life Tay and Kar have chosen.
Cheers to the HETERO CHARADE!