Going to breeze through this YNTCD stuff to get to the latest shocking! development!*
*Karlie got married! To a guy! She keeps doing that!
But we'll come back to that later . . . . All righty . . . we got a flurry of promo press for Lover and YNTCD, but now it's gonna slow down for a bit, because Taylor's already flown back to London. That's been her pattern in this era . . . one week or so of work in the US, then right back home to Notting Hill. Seems like she's finding a pretty good work/life balance that works for her, which is super smart.
So! I have one quibble with the YNTCD vid. As someone who has spent most of my life hick/redneck/hillbilly adjacent, I thought using an over the top stereotype of that segment of society for the protesting homophobes was a misstep. I think we all know the more dangerous homophobes are either middle class white dudes kitted out in military gear like a hate militia, or! who the ones look like male US Senators! and I immediately thought she should have had old white men in suits carrying the misspelled redneck signs instead.
That said, I watched a few YNTCD video reaction vids done by gay guys and watching Taylor and friends laying there so unbothered while being protested by homophobes is where some of them started to break down and get emotional, so it was apparently a powerful and cathartic image for many of them. I still think it could have had just as much power if all the protestors had looked like Mitch McConnell, though!
It's already making an impact at Pride events . . .
Some of my fave bits:
Benji!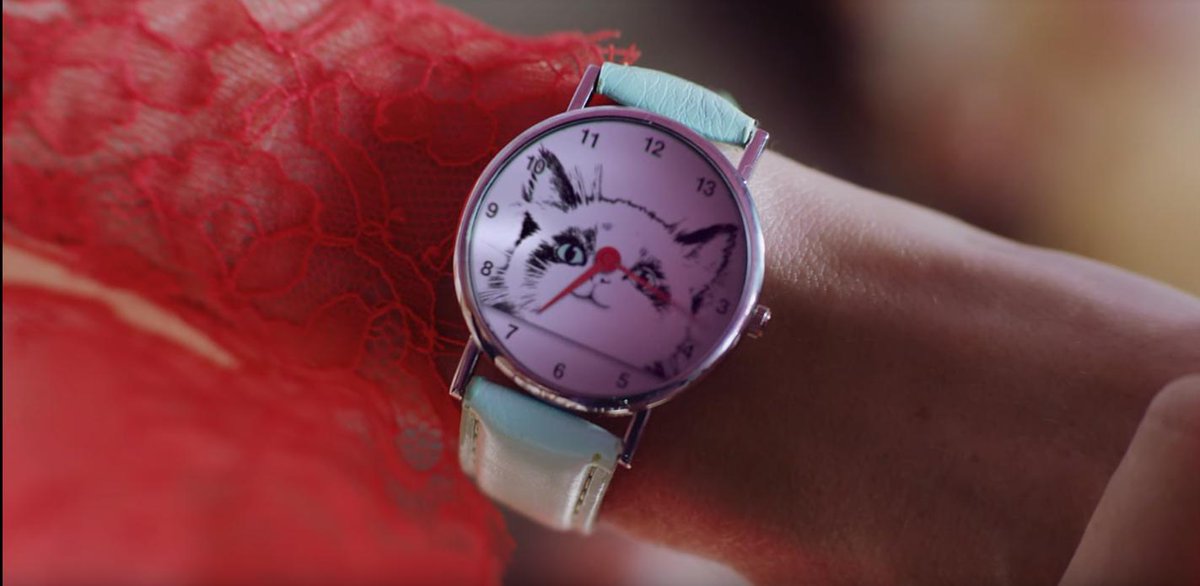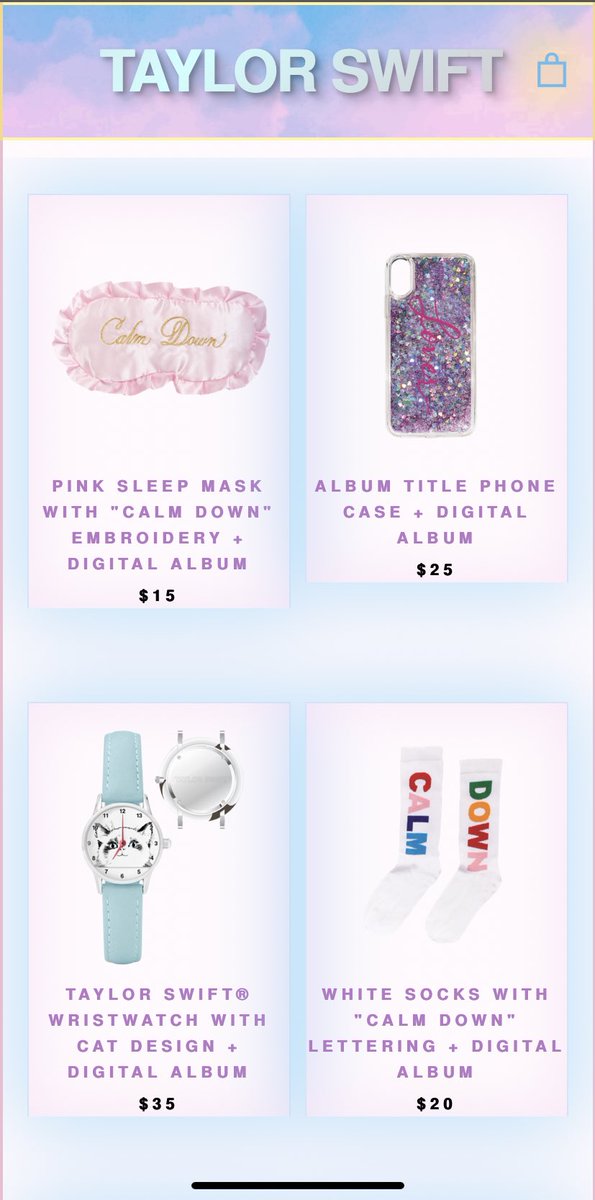 The cats on the raft!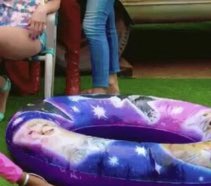 13 pearls on the sunglasses, and just the whole trailer-on-fire vibe:
Ryan painting Stonewall:
(some think this is actually an easter egg for a Lana del Ray collab, btw.)
I adore these boots: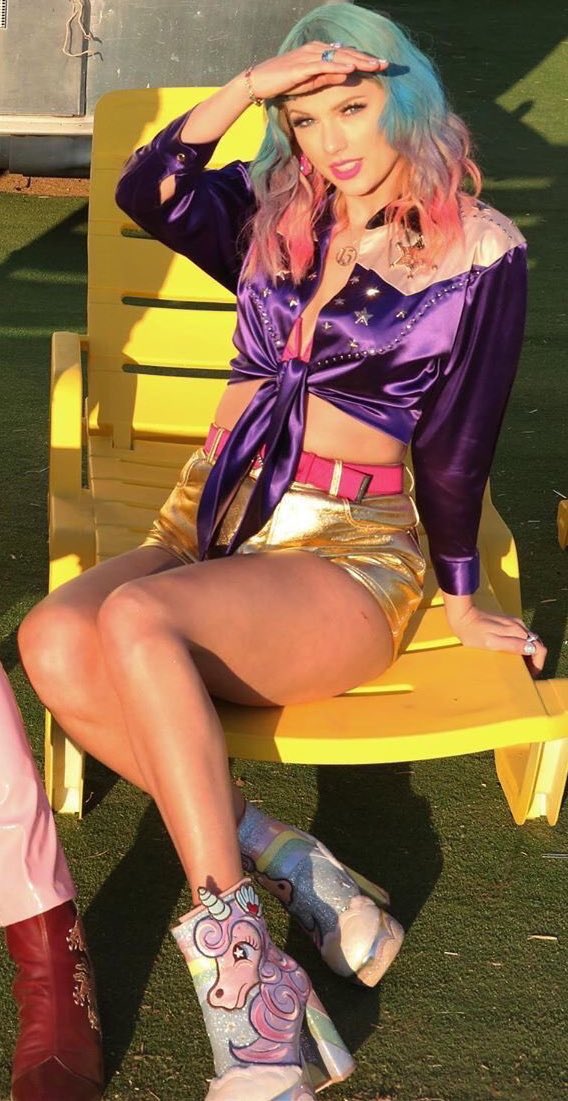 Everything about the pop diva pageant: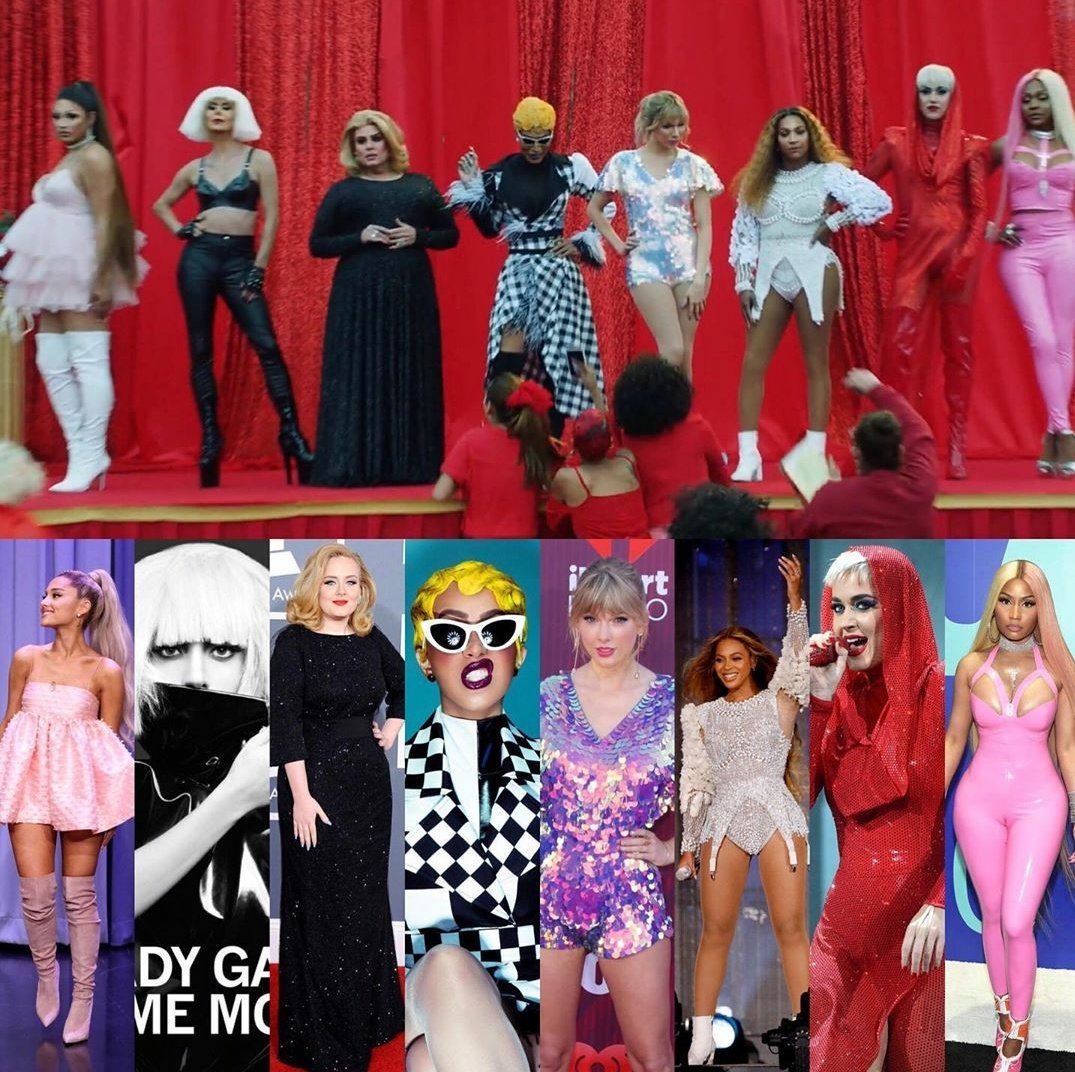 The Fab 5 were drinking from tea cups from Friends!
and they all looked amazing: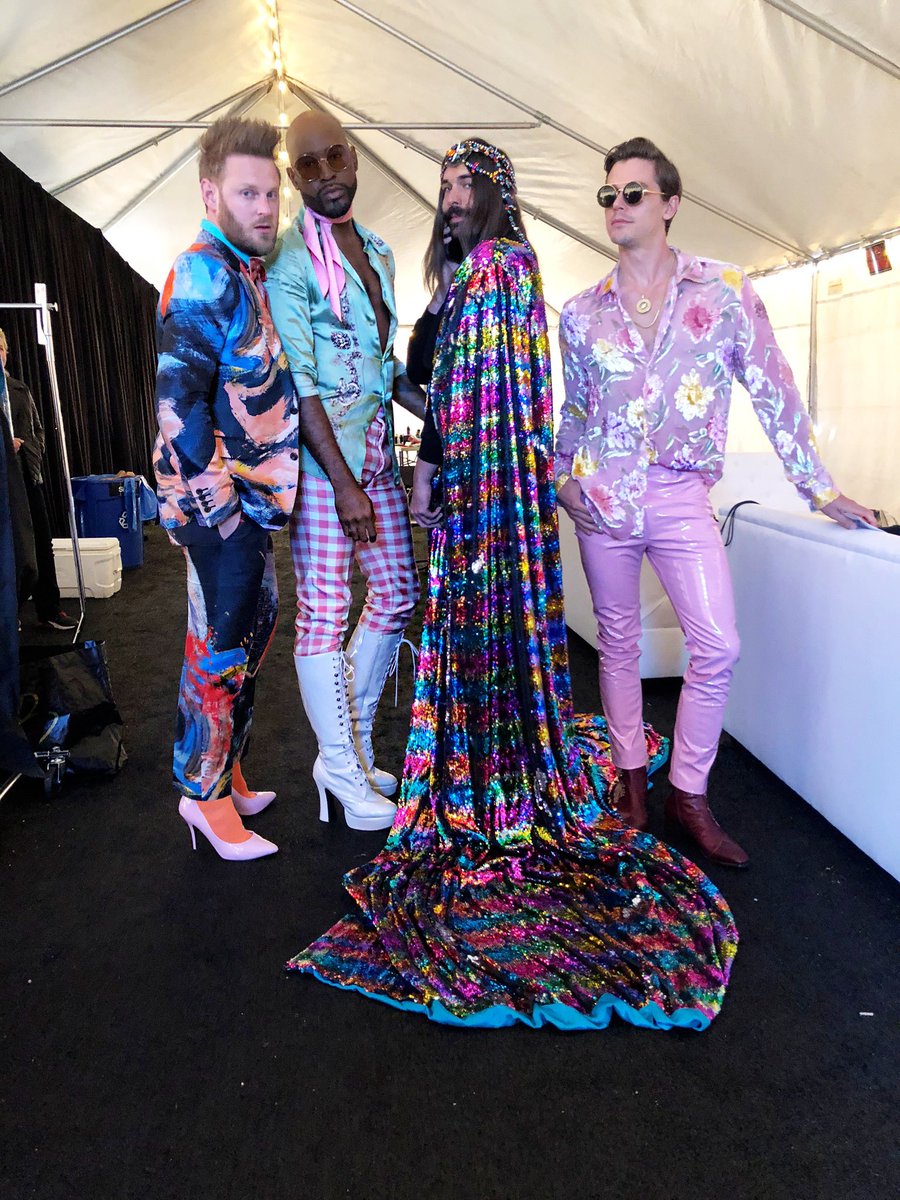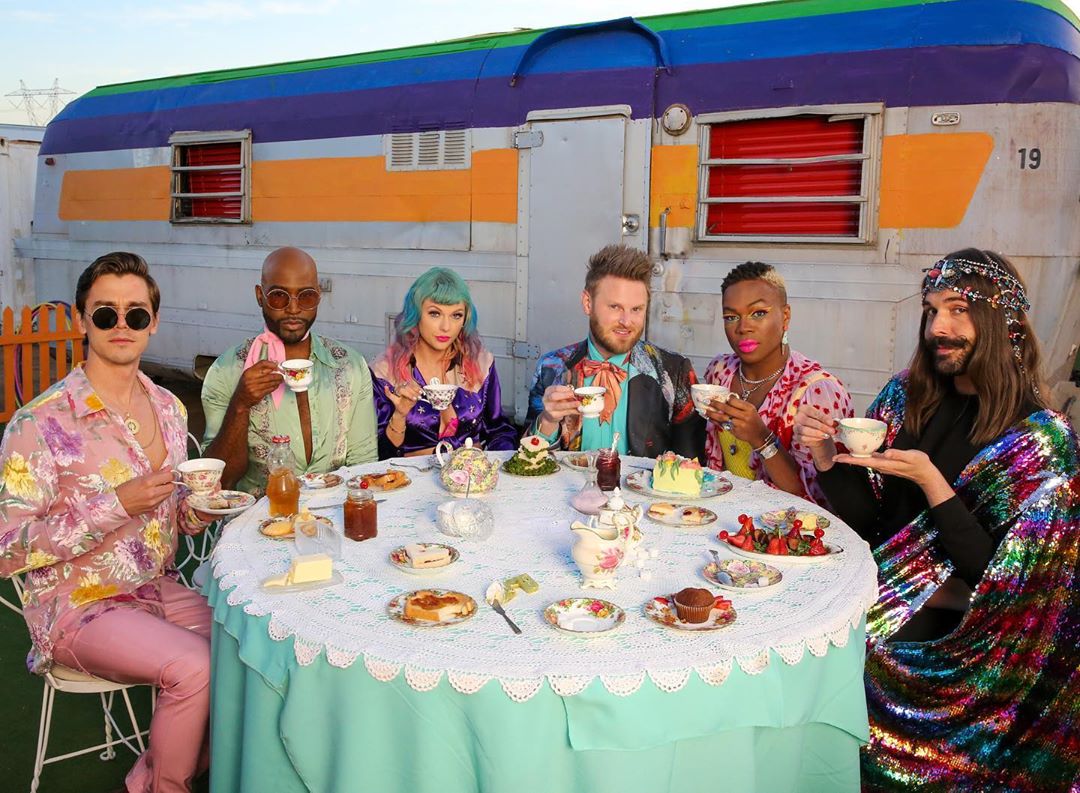 The dice = 67 = 8/23(!):
The fact that the visible numbers on these dice add up to 67 and there are 67 days until August 23rd I - pic.twitter.com/W05FrafCfL

— Nicole[Never met Tay] (@nicoleee_veee) June 17, 2019
Ellen as an easter egg!:
Ellen's scene was filmed AFTER the Ellen interview, and yet she already had the tatt when Tay came on the show?
That I find confuzzling.
The video is what the kids call ICONIC, but it also inspired a very predictable discourse. For every half dozen "Taylor Swift Shows Us How NOT To Be An Ally" headlines there are another half dozen "Taylor Swift Is The Ally We Need Right Now" headlines.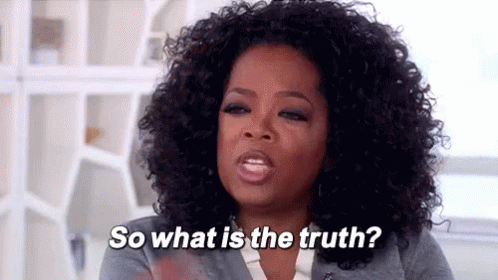 InStyle is perplexed by it all:
https://www.instyle.com/celebrity/ta...al-controversy
Taylor Swift Finally Got Political — Why Isn't It Enough?
It seemed like everyone wanted Swift to use her platform to speak out. Until she did.
For years, it seemed as though the internet had one collective request for Taylor Swift: Use your platform for the greater good! The singer-songwriter was noticeably silent after the 2016 election, save for a vague voting selfie that didn't give any insight into the specifics of her politics, and a tweet during the inaugural Women's March that many fans found lacking. And throughout the first year of Trump's presidency — a time when so many celebrities came forward to take a stand against his policies and administration — Swift remained quiet, despite fans urging her to speak out at every turn.
Swift's current era is a lot different. Beginning in October 2018 with an Instagram post declaring her intention to vote Democrat in the Midterm Elections, this version of Swift is anything but apolitical. At the start of Pride Month (June 2019), Swift shared a letter written to Senator Lamar Alexander asking him to support the LGBTQ community via the Equality Act, and her latest music video for "You Need To Calm Down" urges her fans to do the same by linking to a Change.org petition. On top of that, Swift has donated $113,000 of her own money to the Tennessee Equality Project, a LGBTQ advocacy group in her home state. In a word, Taylor Swift has gotten political. And yet, for some, it's still not enough.
Taylor Swift's new song "You Need To Calm Down" is her first track that openly tackles socio-political issues, with a verse dedicated to taking down homophobia. The single was initially met with positive reception from her fansand fellow celebrities, but others soon expressed skepticism about the singer's allyship, questioning the motives behind her choice to advocate for the LGBTQ community. One review says "YNTCD" simply "feels insincere," calling it a "half-hearted protest anthem" with a message that seems "forced and unnatural."
But the facts of Swift's activism tell another story. At the time of writing, Swift's Equality Act petition has garnered over 275,000 signatures, with a goal of 300,000. GLAAD reported an influx in donations in the amount of $13 (AKA Swift's favorite number) shortly after the release of "YNTCD," which nods to the organization in one of its lyrics. And after Swift posted her letter to Senator Alexander, her fans followed suit, writing letters of their own, and the singer's first political Instagram post seemingly served as the catalyst for an uptick in voter registration in Tennessee.
----------
In the wake of Swift's recent political activism, plenty of public figures, politicians, and organizations have voiced their gratitude to the artist. Senator Cory Booker, who co-introduced the Equality Act in May 2017, said: "Throughout our history, movements powered by people have propelled our country forward, and today's times are a true reflection of that legacy. I'm so grateful to Taylor Swift for starting this petition. Seeing it grow...in a matter of days is a demonstration of how change happens, and it's inspiring." Anthony Ramos, Director of Talent Engagement at GLAAD, called Swift's actions the "true sign of being an ally," and the Human Rights Campaign (HRC) thanked the singer for "her commitment to equality."
But Swift's biggest critic has always been the collective voice of the internet, as she herself even recognizes in the opening lyrics of "YNTCD." And it seems as though the internet will always find a reason to dislike Taylor Swift no matter what she does; yes, even when she does exactly what people have called on her to do for years.
-----------
Quite often, the negativity directed towards Swift isn't tied to anything tangible: her song feels insincere, she seems like she's being fake — the list goes on. When she was silent on politics during and after the 2016 election, the public decided to fill in the blanks, with many assuming Swift was a Trump supporter simply because she didn't say anything to the contrary. And now, even with concrete numbers to reinforce the fact that Swift is making a positive impact by using her voice in the exact way she'd been called on to do, there are some who still aren't satisfied.
The pervasive disdain for the singer — regardless of her words, actions, or lack thereof — seems to suggest that none of this has ever been about Swift's politics. A lack of outright activism allowed Swift to become a punching bag, and some folks are having a hard time reversing that narrative to align with the facts.
But regardless of how anyone feels about Swift's music, her impact is undeniable — and it's only going to grow. With over 83 million followers on Twitter, and 118 million on Instagram, she has an enormous audience of impressionable fans, ready to jump on board with whatever she says or does. Swift has power, and she knows it. And this time around, she's not using that power to reclaim the snake emoji or stir the pot of age-old celebrity feuds; instead, she's using her voice to advocate for issues that matter.
She listened to what the internet had to say. Maybe it's time we returned the favor.
In other words, for many in the media and on stan twitter, Taylor is just bitch eatin' crackers to them, and there's probably nothing she can do to change that.
Taylor does have her defenders, though.
And the Next President Of The United States:
But there was some concern that Taylor may have used the drag queens as props and underpaid them maybe (which has apparently happened with other pop star projects) . . . the queens themselves shut that down.
""I've been on a lot of productions, but this was one of the easiest I've been a part of because they made us feel so comfortable. Just a really comfortable, casual day. Taylor was there with us the whole time, drinking champagne with us and taking pictures, walking around with no security or anything. Talking to her was like talking to a friend. The hotel they put us up in, the car service, the food and the pay were amazing. Honestly, there's nothing I could say about the project or the people involved that wouldn't be positive. If Taylor asked to work together again, I'd do so in a heartbeat.""- Trinity Bonet
RK: Taylor comes in, I turned around and she said "Hi" and I said "Hey" and she literally jumped in my arms. She sits on the couch and tells us, "I'm compared to all these pop stars, but of all the pop stars out there I'm most like Ed Sheeran, but nobody ever compares me to him, they want to compare me against these other women. So I want you girls here to represent that we're all strong, fierce women." She was the most gracious, most kind person I've met in my life, not just celebrity. I totally had a different opinion of her before I met her. People say a lot of things. I mean she made a whole album about her reputation. In the media she's painted as a mean girl, there are so many different controversies, Harry [Styles] and Kim Kardashian. But now, honestly if anyone tries to say anything bad about Taylor Swift to me, know I'll be like "Eh! You don't understand. This girl is amazing."
WCP: What do you think of the criticism that the video puts a straight white woman at the center of the queer narrative?
RK: She's championed gay people many times, in other videos and things. It's like, when you have a platform like that, who better to use it for than communities that have been underserved. It's like, you have this platform, you have this voice, what do you want to say? Use that to do some good. You know, she said nothing, and they complained that she wasn't being political enough. Now she's saying something, and it's "appropriating culture?" How? How is she appropriating culture? She's trying to help. She's saying, "These are all my friends, go follow them, go to their shows, stan them." And she also has a petition for the Equality Act. It's basically her lending her voice. There's been tons of straight white women who've lent their voice - Madonna, Cher - you know other straight women who are gay icons.
Why not Taylor?
It also looked like the funnest shoot EVER for reals.
Taylor very much liked hanging out with the queens.
(in the last gif she was asking Todrick to be the executive producer.)
Also wanted to add this from Taylor about Katy's appearance in the vid because there's this extra detail:
"She was so amazing to do the video. And things with us have been on very good terms for awhile, but we just have kept it private. We've just kept it between us and made sure that things were really good with us. And I don't know if we ever had plans to make it known to people, but I wrote this potential ending of the video where it would be me and Katy and we would see each other. Because what I based that moment on was Katy and I actually did see each other from across the room at a party, and we actually did walk across the room towards each other just like that, and we weren't dressed as fries and a burger, but it was actually a really sincere, wonderful moment in my life when we saw each other for the first time after you know, years and years of kind of miscommunications and all that.
So we wanted to kind of portray an example of redemption and forgiveness, and how you can kind of grow up, and move past things, and you can actually kind of grow back together, even if there is sort of a rift in your friendship. And that is something she was really, really wanting to do as well, and it just was great, because we got to plan things together we got to come up with the concept of the costumes together cause we wanted it to be kind if playful just like the rest of the video, so we added the costume element."
No idea what the event was, but I like the visual.
Now that we have two singles from the Lover era to dissect, critics have been dumping on both of them and saying she's becoming irrelevant, and it's obvious that Taylor can't win here either . . . but she also can't actually lose?
I mean, none of the discourse or criticism has affected Lover pre-sales.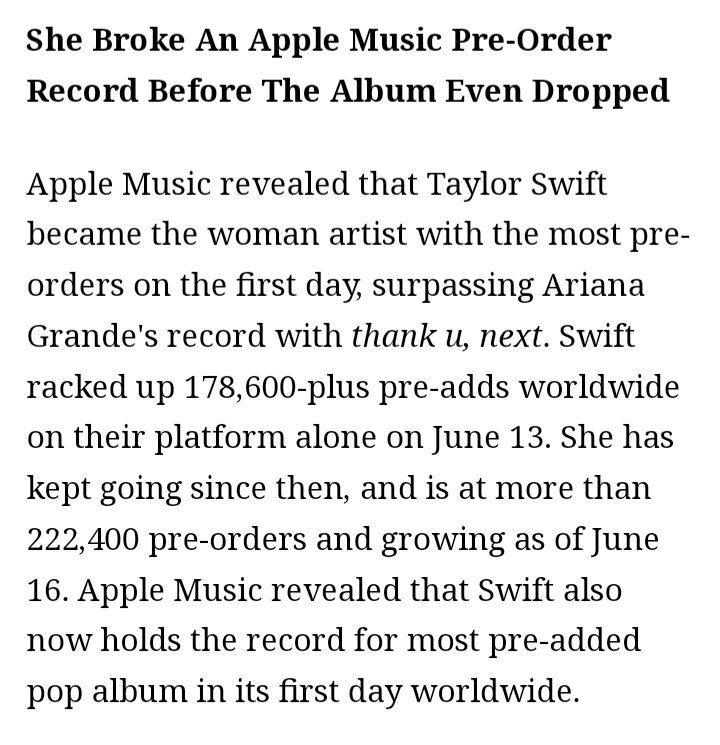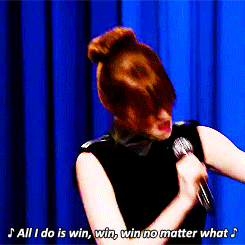 Okay moving on! To kay nonsense!
So y'all remember how when Karlie and JK got married back in October, People mag said they would do another ceremony/reception for their friends in the spring, and so the kays decided that meant 'May' for some reason, but then it didn't happen in May and so the kays have been harassing Karlie and her fake husband all over twitter and insta and laughing at them for being fake because the whole May thing didn't happen?
Well! Guess the big old fakers were saving their heterosexual LIES for Pride month:
https://people.com/style/karlie-klos...g-celebration/
Karlie Kloss Celebrates Marriage to Joshua Kushner with Party in Wyoming 8 Months After Wedding
"May your marriage be as intense and long lasting as my hangover from this weekend," Kloss' close friend Derek Blasberg wrote along with three photos of the couple, including one that showed them being lifted on chairs during a traditional horah dance. (Prior to getting engaged, a source previously told PEOPLE that Kloss converted to Judaism in early June.)
"Our best friends' wedding," Dasha Zhukova, founder of Garage magazine, captioned her photo of Kushner and Kloss, who wore an off-the-shoulder white dress that featured lace detailing.
Also in attendance were Katy Perry and Orlando Bloom, who got engaged in February.
A rep for Kloss previously told PEOPLE that they would host a larger celebration for friends and loved ones in the spring.
Katy P. and Orlando were there! Not dressed as hamburgers!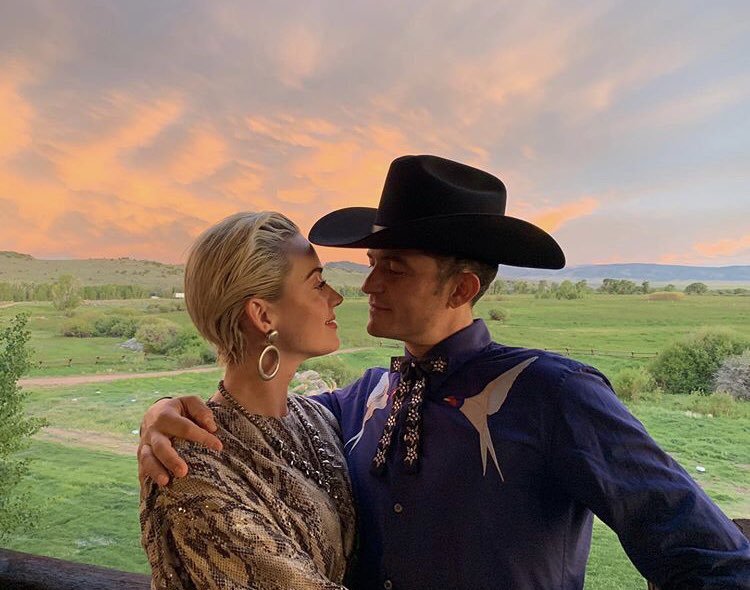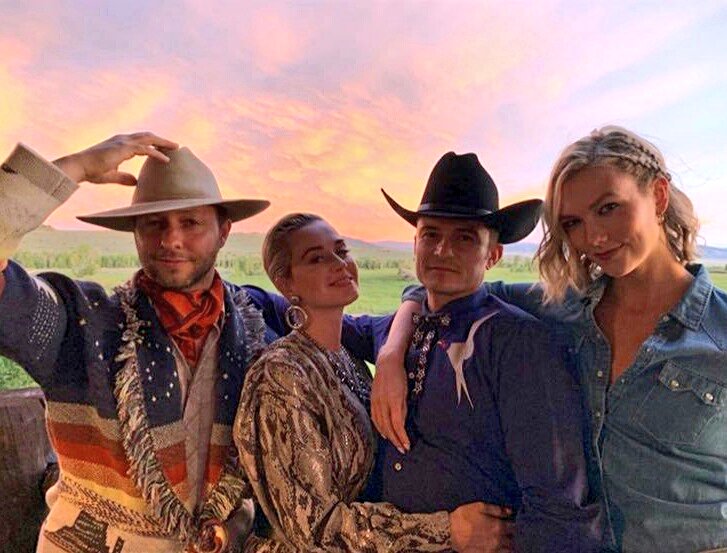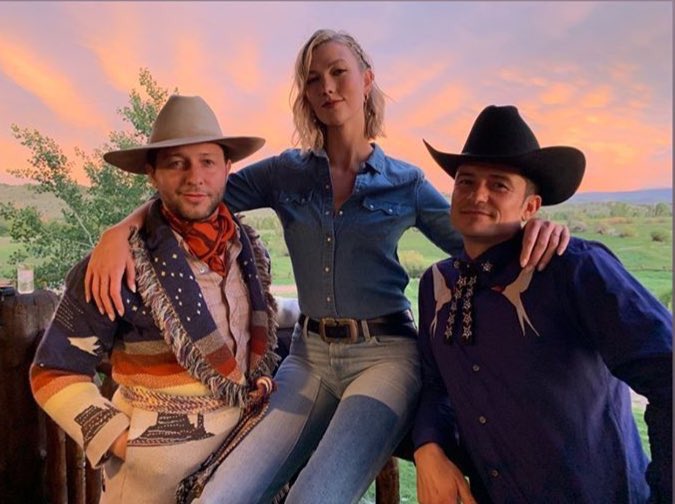 And Ashton again:
And DVF:
. . . and maybe Ivanka and Jared?
. . . so . . . Katy Perry etc are all coolio with socializing with Ivanka and Jared??
All righty then.
More pics of the Wyoming Weekend of LIES: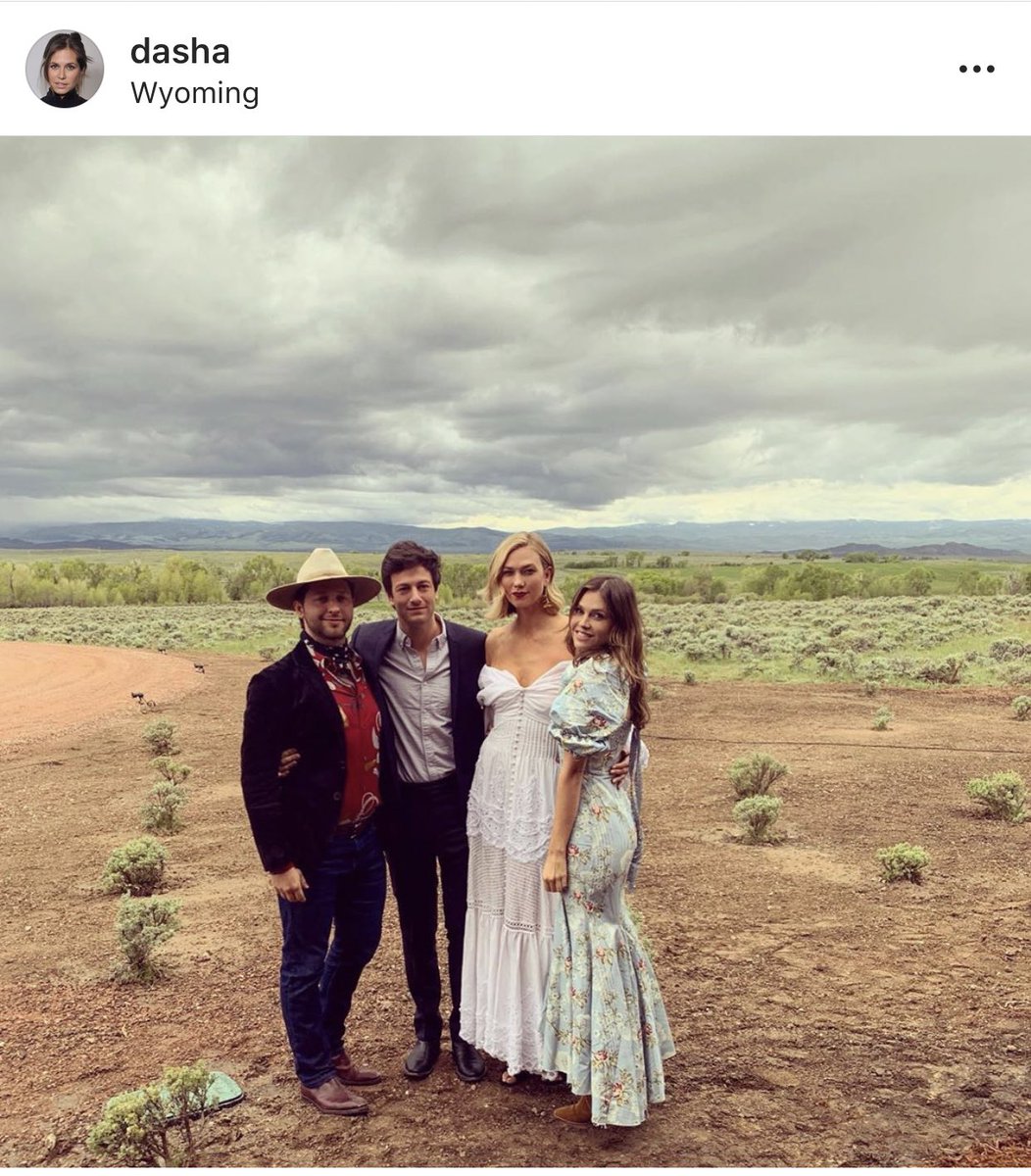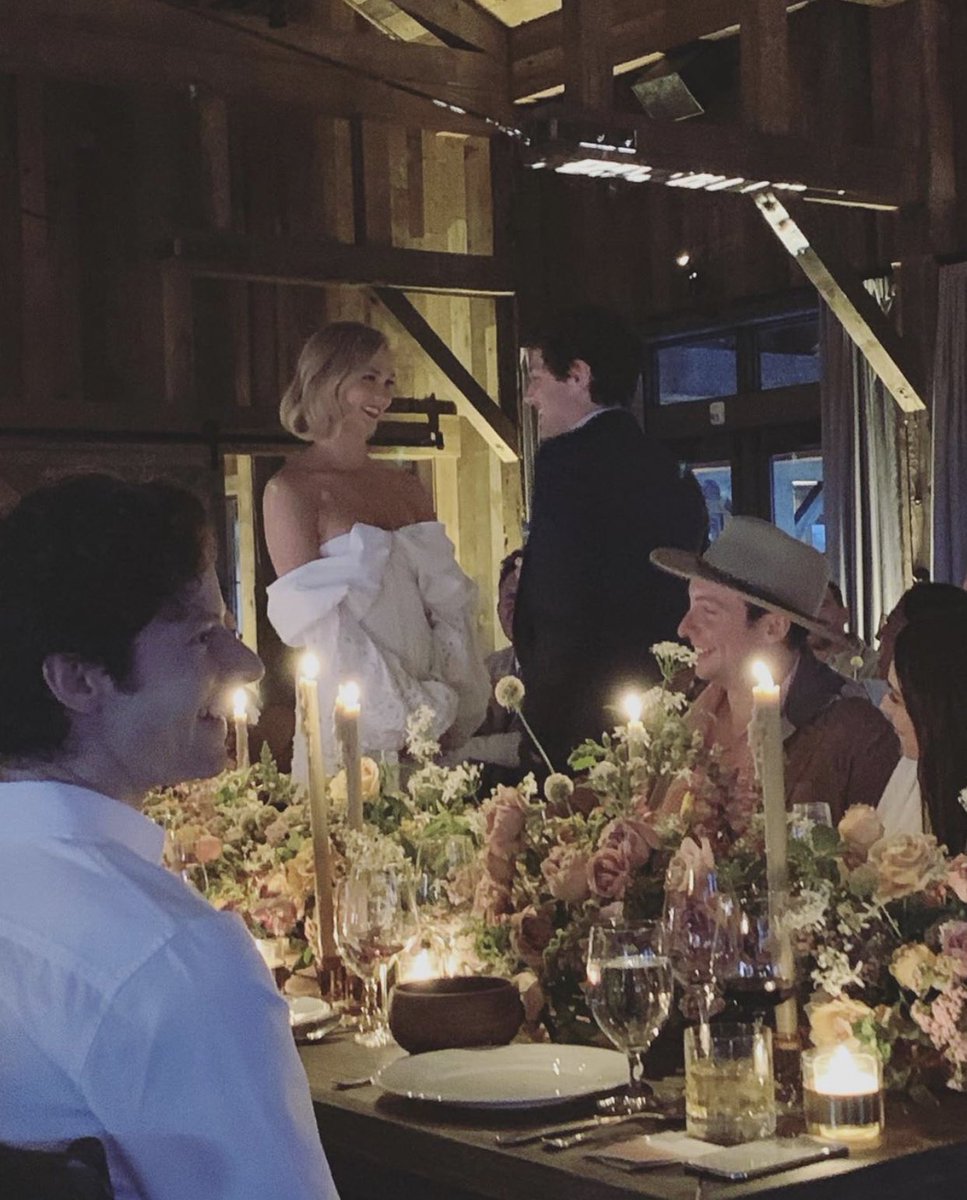 Hmmm . . . someone seems to be missing . . . who could it be . . .
Not only has neither Taylor nor Karlie acknowledged each others' latest biz endeavors (Taylor has not liked/posted anything to support Project Runway, Karlie hasn't liked or posted anything for YNTCD) but Taylor doesn't seem to have attended this second ceremony in Wyoming, either. Can't blame it on work this time, because Taylor is just hanging with her boo at home in London.
Needless to say, The kween is NOT HAPPY about ANY of these COWBOY SHENANIGANS:
Karlie staged the second ceremony in Wyoming with the criminal this weekend.
Just an FYI. Spare my inbox because I am not answering today. I do not know what this means. But, it is very sad. No it is not real.
Also, Wyoming is convenient because:
Marriage records do not become public record until 50 years after their filing date. NY … also no public marriage records.
I guess we'll all know the TRUTH in 50 YEARS! (does she think they got legally married a second time because that's not a thing.)
That this is a loud bang before the split. I do think the People Magazine headline was telling. Reminding people they have been 'married' for 8 months, so the split will be more realistic. I will say more later … including about the contract … but I want to observe a bit, too.
Because YES everrrrybuddy stages an elaborate wedding party with tons of fabulous people there RIGHT BEFORE announcing their divorce, that is a thing that happens so frequently there should be a German word for it like 'murriedaforegaybkommen' or something.
Karlie allegedly went through with this entire 'wedding' stunt, because she feared the disgusting Kushners would retaliate and harm her career, if she didn't. Well, Karlie … what do you think they are doing? The only difference is that you feared they would hurt you behind your back … now they are doing it right in front of your's and the public's face. It really looks like you got played.
(The Wyoming dress was not Dior! just fyi!)
Rando kay reactions:
can't stand her i'm sorry i said it. whatever happens with the kushners... she has ASKED for it. practically begged it. not sorry for her at all. karlie, i hope you read this because i think you should probably make babies with him too, ruin your life even more. you don't even hate josh, you're so fucked up.
Jerk got the King in check, the Queen is still in play but likely under pressure by Jerk's pawns. The King & Queen forgot that a pawn like Jerk could become a Queen if it makes it across the board. If Jerk checkmates the King then the game is over and the King & Queen lose. The risky gambit in 2016 did not pay off in this game of chess, it in fact changed the entire board to favor Jerk heavily. The board has changed and they'll never get to tell their real, full truth to the world now... Tragic .



WUT.
I'm sorry but kaylor are cruel as f*ck at this point. They give a little and then devastate us as per usual. A lot of people are so invested in them bc there's so little representation in the world. If you re gonna continue to play these games please stop liking post about daisies or putting anything kk in your videos taylor. Come out on your own and be free. but no more of this cruelty please it's too much.
all i can say is that Karlie and the bottom are clearly trying to make themselves look legit before Taylor comes out.
We need to call him Bottom jerk now, he radiates gayness through every cells of his body lol
i think the inclusion of people like katy perry actually makes it more fake and silly looking but regardless it's a mess. we've known this was coming and was likely in the contract for years but it's a very bad look for her. i mean this is all super complicated bc it's a mix of contractual obligation, timing (kushner legal issues, taylor likely making her own moves), and publicity but ultimately….. i feel horrible for everyone involved (meaning the girls) while also knowing that karlie is an adult and unfortunately she'll have to deal with the fallout of this strategy. i think that it will resolve itself eventually and we'll be out of the woods at some point, but tbh i'm not going to spend time defending karlie or excusing this. it SUCKS but my heart goes out to taylor mostly.
I want to support Kaylor, and I did most of the time because I wanted to believe there was an end plan. But they play with our feelings and I'm just tired of it. I'm still gonna buy taylor's album and hope it does well. But now I think I'm done with Kaylor, they played me well. so bye
I really really don't understand why Karlie has gone along with it. No contract would force all of this. A contract might be written, but it isn't enforceable (not a lawyer). Does she just want to avoid the "drama" of a legal battle? Honestly, if Taylor/Karlie stopped dropping heavy hints they were still together I'd say, they broke up/Karlie got married to Kushner. You sleep with the dogs you get fleas.
(so is it in the contract or NOT).
Heavy hints!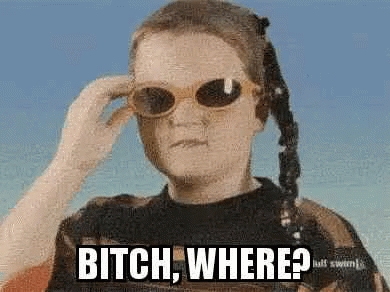 Quick question taylor & co. What gave you the impression that jerking around an already vulnerable group of people was a good idea? We cannot un-know the truth. Why not call toe for another stunt. Just to twist the knife.
I feel so disappointed and used. And I'm a grown ass woman. I love Taylor but I wish she would just stop with the daisies and blender hands and butterfly wings, I don't want to be constantly reminded of something that isn't real/public.
(They think a clip from yntcd shows Karlie's hand turning on the blender or something like that? Yes, it's as looney tunes as it sounds. #blenderHands)
This one might be the funniest of all:
Really wish Spade would've let us know about this.
But hey, hope springs eternal . . .
NEVER EVER SEEING EACH OTHER IS PART OF THE PLAN.
And this is a bit of a digression, but in the video there's this girl? in front of an orange trailer? And nobody has identified her yet?
The kays have theories!
I am 100% convinced the girl is Karlie, peddling to nowhere and the oranges represent trump, the girl also looks miserable and her trailer is small and cramped, I think it was a jab at her because I don't see Taylor being okay with any of this and if she is still with Karlie and supports this then that's all I need to know about Taylor.
What if the girl with the orange trailer represents Karlie AND her reputation. Like you anon said. The trailer is dented. The girl is surrounded by orange. Hell. She's covered in it. You know what orange makes me think of, as a non American? Especially orange pants? Those orange overalls with the initials for Department Of Correction on the back. Maybe... Just as much as the timing of the release of the song on Trump's bday, that was a dig at the fam that will soon will be wearing prison orange.
Backing things up a bit, before Karlie went and BETRAYED PRIDE MONTH, the main discourse was around the fact that the kays were holding two things to be true at one time: 1) Taylor TOTALLY and IRREVOCABLY came out as gay in the YNTCD video and 2) Taylor is TOTALLY allowing the people around her and her team to portray her as a straight ally because she's not QUITE ready to come out yet.
But then ooops, she said it herself:
"I pretty much know that anything I do is going to have some people who just hate it. I'm trying to make things that will make my fans happy, that will make my fans feel accepted, supported and loved.If people want to criticize me and be constructive, I'm always open to learning.I don't think you are ever doing things perfectly, I think you always have room to improve and learn. I want to constantly learn how I can be a better ally. If criticism is constructive then I am all ears. But if it goes into like kill yourself, I never want to hear from you again, I'm like that's not constructive. Just calm down!"
- Taylor on Clyde1 about constructive criticism and dealing with public opinion online
And she states that it's her loved ones and friends in the LGBTQ+ community that inspired her (so presumably not her own experiences):
"I feel like there are so many of my loved ones and friends and fans who, you know, they're in the LGBTQ community and they have to go through life either being verbally or vocally judged and criticized or wonder if the people around them are silently judging them, or wondering the people around them are just tolerating the way that they are. And I think that's really unfair, and I just wanted to make it known to everyone around me, and my loved ones, and my fans, and my friends, and my colleagues, like I don't just tolerate the way that you are; I celebrate the way that you are.
And I want to support everyone having the same rights. It's crazy to me that in our country we actually all are not treated equally under the law. We really aren't. I know that there's so much going on in our government right now, but I don't think we are past making positive change, and I'm never going to give up on that. My life feels better, it feels better living my life knowing I've been given so much but I can use it for something good. So my life has been a lot better once I decided to really be vocal about how I feel about things."
- Taylor to Elvis Duran on how she decided to make more noise politically
Really, I know the kays wanted Taylor to do something super gay but it actually led them to a place that makes it REALLY HARD to keep on believing that she is actually gay herself? I mean, now we know what the pride pin on her jacket meant, and all those rainbows, and all the support she threw to LGBTQ+ artists, and Taylor EVEN SANG THE WORD GAY in a song, and yet STILL none of it added up to Taylor being a gold star lesbian in a relationship with a super model.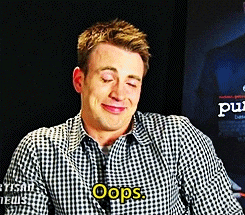 Every time someone from the vid was interviewed about her, they just kept piling on more misery for the kaylors and gaylors:
Bobby Berk from Queer Eye:
All that I can assume is that after meeting her and seeing how lovely she is, I can just imagine that Taylor's sitting there and not taking the fact that she's a straight white person with straight white privilege for granted. She's looking around at the people who aren't naturally born with that privilege. She's trying to make sure that everyone has those same rights and everyone is treated the same. You can tell a lot about a person by the way they speak to crew. A lot of times, people can be divas. For Taylor Swift to be the biggest pop star in the world, when there were things on set she didn't quite like, she'd say something like, "Hey guys, what do you think about this or that?" (The attitude was that) it's a community and let's make this work. When I saw that, I was thinking, "Wow, this is her video and her production." I had so much respect for that.



In her world, she speaks to every single person she interacts with equally. So for her to see that there are demographics like the LGBTQ community who aren't treated equally, I think it infuriates her. One thing that infuriates me are the amount of people who've come after her in our community in the last week, saying things like she doesn't have any business latching onto the queer community or is using the queer community to promote herself. She doesn't need us. She is doing just fine on her own and is using her platform as somebody that millions and millions and millions of people look up to and is saying, "Hey, everybody needs to be treated equally." For her to be using her time and money to help us and help the Equality Act get passed, I mean, we owe her a debt. You don't have to be queer to be a queer ally, and she's definitely a queer ally.
Hayley K:
In Todrick's YNTCD reaction vid he said this:
Taylor and I have been friends for the past four or five years and I never would have thought we would get as close as we have but I love her so much like she is my sister. And I love the fact that she has grown so much.

I remember one times talking to her like when I first started talking to her because I didn't know honestly how she felt about gay people. I was like, clearly she knows I'm gay, but I don't know if I should tell her or not. Then one day I asked her if you were to have a gay child, what would you do? Taylor: what do you mean what would I do? they would just be gay... and it was such a simple answer, there's nothing to do I would just love them and they'd just be gay. And I just love the fact that now she's using her humongous platform to support our community
That's VERY MUCH NOT a question you would ask of your gold star lesbian friend who has been married to Karlie Kloss for years, ya know? It's what you ask of your straight friend who only recently stopped being yeehaw.
And this is what Tay's very good friend Cara D. had to say:
‪I cried and I've been texting her all day. She is incredible. I think what she's doing is brilliant. It's just the beginning. I think most of those people who are in support don't realize how important it is to say it out loud. We were talking today and she was like 'You were one of the people that helped me get to this place.' It's not that she never believed it; it's more that I don't think she realized how much they need it.
I was about to show up to that video, which sadly I did not. But, she is incredible and I think what she's doing is brilliant. It's just the beginning. Most of those people who are in support just don't realize how important it is to say it out loud. So I think it's just incredible."
Cara Delevingne on the 'You Need To Calm Down' music video and her helping Taylor announce her public support for the LGBTQ community (Variety Hero Award red carpet)
Also TOTALLY the way you speak about a straight friend who needed a little help figuring out their responsibility as an ally, not what you would ever need to say to a fellow gay person.
But that's o-kay! according to the kween:
As I have said before, I would completely respect her right to not come out explicitly. I say explicitly because she already came out to me in the music video. I am not sure how it could be interpreted any other way to people.
Why Bobby Berk called her straight:
She is definitely out to people close to her, but not everyone. Also, he is not going to speak for her. If she doesn't say it explicitly, he is not going to.

To me, observing this era, it is quite clear that she is planning to come out. But, like any other person, she has the right to change her mind if she so chooses. In my personal opinion, she came out quite loudly in the YNTCD music video.
This Kaylor community should be the most supportive and understanding of what Taylor is doing this era.
She is embarking on a personal journey in front of the entire world. I think we would all agree that her PR skills are next level. She is a master at it. She knows what she is doing. She knows that every single move she makes (no matter what the topic is), will be met with supporters and naysayers.
Let's make this section of her fanbase her safe place.
Can we just all calm down and appreciate and observe what we are witnessing?
Yes! The safe place where people are accusing her of lying about all of previous relationships and concocting fantasies about her sexual exploits with her friends after she explicitly asked you not to, and where you accuse any guy within fifty feet of her or Karlie of being gay.
It's all part of the process!
I think when/if Taylor does decide to come out, we'll all know. She herself said she is strategic. And she's way too smart to let all this backfire by moving too quickly. I think we should all just appreciate that after so long she's publicly enjoying pride month (as an "ally" or not) and making overtly lgbtq+ friendly songs. It took her 13 years to get this point. We should all trust her and her journey without trying to pinpoint exactly what day she's coming out.
The ally stuff means nothing, because she is JUST lying but NOT lying!
I honestly don't feel like she would make this huge of a deal about it and drag it out this long if she wasn't coming out lesbian. But she has to literally burn her whole image down(like in the mv) & come out. All the "boyfriends" and "all her songs being about boys" and all that, so I just feel like that is what she will do. She wouldn't necessarily have to do that if she was coming out bi, I'm bi myself so no disrespect at all, sorry if that offended anyone
IMO I think that the reason Taylor & co keep using the word 'ally' is to slow things down a bit. Yes, an ally can be a member of the LGBT but most will take it that she is not LGBT but supportive. BUT, when she does come out they will look back and educate themselves, she didn't lie.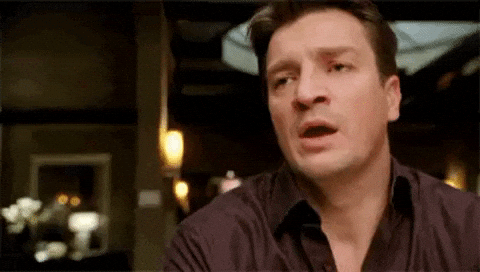 Sorry I'm also new, can you explain (or link me to) the PR stuff with Joe?? I'm confused because she puts so much effort into making the "relationship" private and it doesn't make sense to me that it's a PR thing although I hope it is ?
There is not a lot to link about him, because they spent so little time together. She staged that narrative as a 'private relationship' to mirror her private relationship with Karlie. The PR spin is that she is involved in this secretive, private relationship. So when she writes songs about Karlie and their secretive relationship, the public will assume it is about Toe.
Our secret moments in a crowded room, they got no idea about me and you
If you think back to when they were seen together, one of them was always promoting something. A new movie release for Toe, or a new single for Taylor. The classic example was Toe wearing dark jeans and Nikes on a hike in hot weather right before the release of the Delicate music video.
Dark jeans and your Nikes, look at you
As a side note, the kween absolutely has jet trackers among her minions, they just conveniently don't share with the rest of the klass the fact that Taylor zips right back to London (and Joe) as her default setting. So yes, if someone is restricting the knowledge you are exposed to you might not realize that Taylor and Joe are hardly ever apart for more than a week or two at a time?
For newbie Gaylors who previously believed in Taylor's public relationships, who are confused about the "official" narrative vs the gaylor narrative, I would suggest you start by looking critically into Tay's public relationships and the songs that are supposedly about each of them. From clearly staged and deliberate "candid" pictures, to chronological impossibilities, the heterosexual narrative falls apart the second you start to question it.
Demonstrably untrue! Reams and reams of master timelines exists to show you it's untrue! And just because you say it doesn't make it less untrue!
Since they mentioned Joe! Here's a Lover era easter egg for ya from THREE years ago . . .
In October '16, a couple of weeks after Joe and Taylor made things official (their anniversary is Sept 28, according to Taylor), they kinda sorta made a public debut in NYC. Taylor and her squad (minus Karlie) went to a Kings of Leon show and at least one pap caught Joe walking behind them, but he was unknown/unidentified at the time. And then afterwards they all headed to . . .
. . . a dive bar on the east side called Lover(s of Today).
Also! she says she leaves hints in clothing during an era . . . .