This is why Joe is interesting, because he just seems unfazed.




Right? I don't understand how he manages not to be constantly freaking out.













Yes, v! the Lover music video! was so freaking cute!




A dollhouse! Inside a snow globe!










I like this theory, that each room represents an album: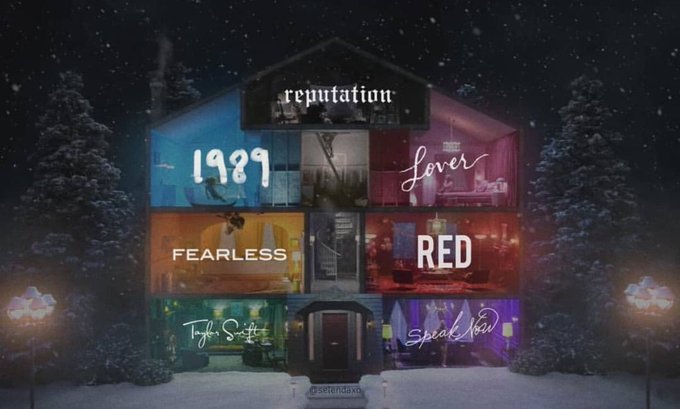 The love interest was played by Christian, one of her friends who was a dancer from the 1989 and Rep tours: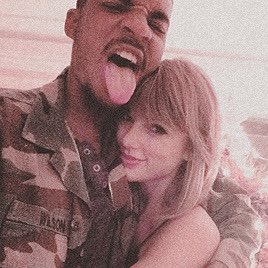 I like that better than using a random pretty boy model or actor, for sure.



No sleep for Taylor!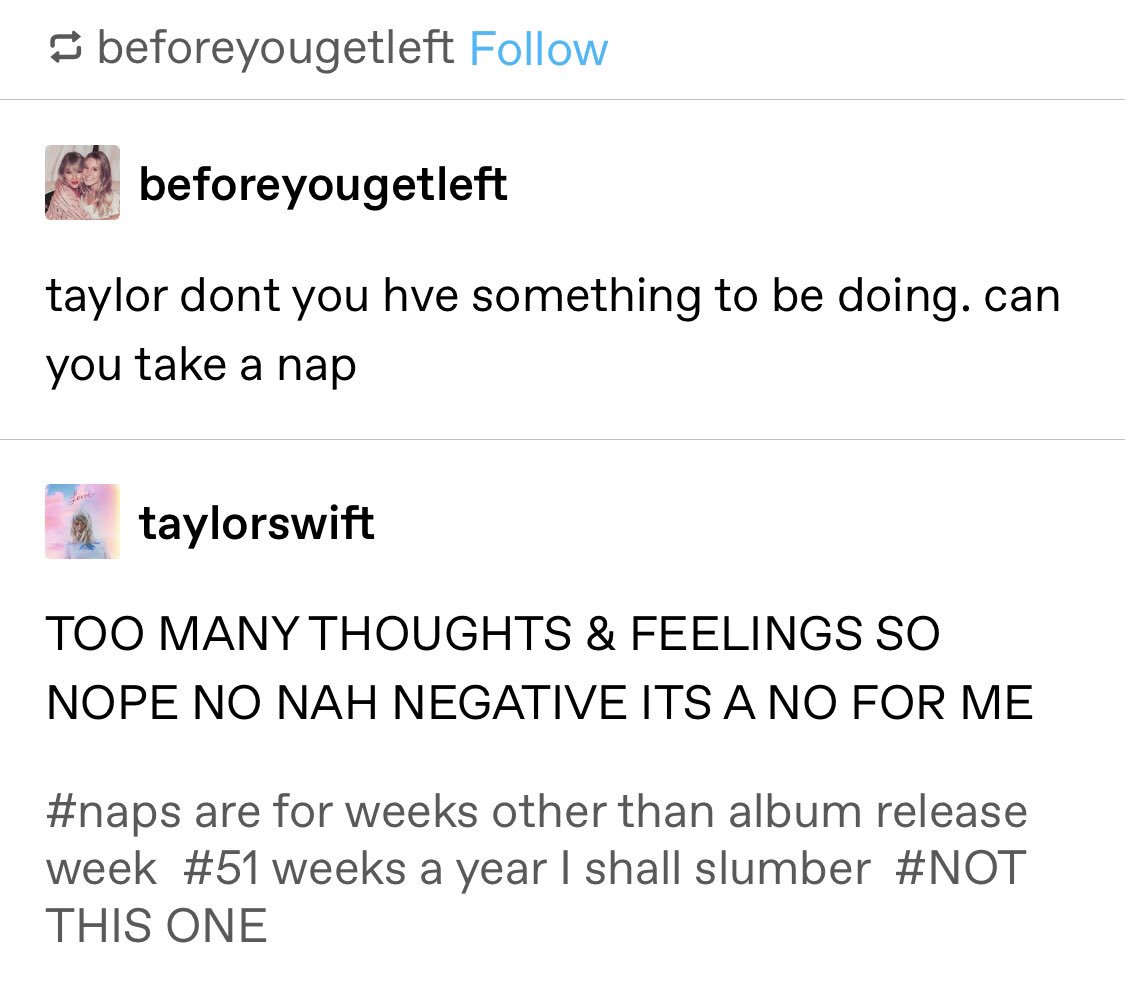 She's probably wishing for the quiet days of the rep launch, where she did no press and no promo.



She's spending a lot of time on tumblr while she waits on album reactions . . .















Okay, so here are Lover lounge livestream link:

https://youtu.be/dDO6HnY7h24



highlights:

- she read very embarrassing diary entries from the deluxe versions (but not the original All Too Well lyrics, darn it.)

- "I thought Daylight was going to be the title but then I wrote Lover and I thought, that's the album title!" - Taylor about how she decides album titles. This is justification for the many fans who were absolutely sure she was calling TS7 'Daylight'. Well, it would have been a pretty good name.

-What song was the hardest to write? "Soon You'll Get Better, it was hard to write and it was a family decision. We as a family decided to put this on the album. It's something really hard, I can't sing it, I can't emotionally deal with that song." Gah, that one is going to KILLLLLL me.


- She and Stella chatted about the new merch and did a tour of their pop-up shop in NYC. I kinda like the water bottles!





And she said this to a fan during the meet/greet portion:






"WHAT WAS INTERESTING ABOUT THE GAME OF THRONES FINALE WAS THAT IT WAS A REALLY ACCURATE REPRESENTATION OF HOW SOCIETY TREATS SUCCESSFUL WOMEN LIKE DAENERYS. WE WANT TO SEE WOMEN GAIN POWER BUT NEVER LET THEM MAINTAIN IT FOR LONG" - TAYLOR FUCKING SWIFT TO ME






Issie! The best thing about the live stream was this acoustic performance of The Archer:


https://youtu.be/1qwxqyac0Z8



So yes, the album did leak* and now that so many have heard it and the kays can no longer pretend it's anything but SUPER DUPER HETERO instead they are pretending they didn't think she was coming out this time anyway.












IT'S OKAY, WE'LL GET THE GAY ONE NEXT TIME.



This is just weirdly disturbing:











Speaking of dumb things, here is Scott B. bringing the absolute dumbest argument to the table:










That's real stupid.















* I have heard it** and I LFUHREAKING LOVE IT ALL*** and there are NO SKIPS but that is all I am going to say at this time. I AM OBSESSED WITH IT THOUGH.



** disclaimer: I have already paid for my digital pre-order AND bought a deluxe album for Target for the ogirl's birthday so my listening to a leak took no money out of Taylor's pocket and will not deprive Meredith, Olivia, or Benjamin Buttons of their favorite cat treats.


*** to be fair, I'm pretty easy going when it comes to Taylor's stuff and generally like 98.9% of everything she does so that's something to take into account. But still!!! OBSESSED.