If you fast forward the D/E stuff (and anytime Tyler was around), this was a very enjoyable episode.
I'm still on board for all things Forbes and all things Forbes/Stefan. Liz and Caroline are going to make me cry every week until Liz finally kicks it. Totes okay with that. This isn't how I pictured Steroline becoming a couple (and Paul has got to be bored silly with Stefan The Comforter), but eh. Whatever.
What is up with daylight rings being so easy to get, though? All through S1-S3 they were kinda a big deal that only Bennett witches could do . . . which meant very very very few vampires even knew they existed and they were 'special'. But in S5/6 we've got Enzo walking around in daylight with ZERO explanation for how/when/why he has a ring, AND Alaric the same thing . . . he came back from the dead a vampire, but Bonnie was already stuck in 1994, so where the heck did his ring come from? AND NOW JO IS LIKE TRA LA LA YEAH HERE'S YUR STOOOPID RING ELENA LOL. Cheapens everything vampire, tbh.
Oh! And how did Tyler wake up? Did the drugs just run out or something? He should have stayed in the same coma Kai was in. Having him pop up just in time to save Liv yet again was straining credulity.
Seriously though,Tyler is so useless and unlikeable this season. My interest in him has gone negative. His storyline used to revolve around Caroline, now it revolves around a different curly haired blonde. And he's just over the top shrill and rage-y! I don't get it. WHY IS TYLER WHY.
Kinda hope Kai kills him, tbh. They told us not everyone would be going to S7, right? And we know Liz is dunzo and Jeremy is dunzo . . . but I'm wondering if they are going to save Tyler's death for a surprise. Kai has to keep the body count rolling to continue being a viable villain, and Tyler would be an easy sacrifice to make for that endeavor.
Okay, rants over.
According to next week's promo (we don't care about spoilers anymore, therefore I don't care about putting stuff in the spoiler thread), Kai is going to help Elena, Damon and Jeremy communicate with/save Bonnie.
http://youtu.be/4DvFdOahufA
That is strangely awesome? But mostly just strange, since . . . why? Kai had four stated objectives:
1) Get out of Prison 1994: check
2) Learn how to use the internet: check
3) Merge with sibling and win: check
4) Hunt down Gemini coven and give them all a bloody death . . . .
He should be off accomplishing #3, not hanging around the SBH with losers he doesn't care about, to save some other loser he doesn't care about.
Just wondering what kind of leverage they still have to keep Kai in town and! doing favors for them.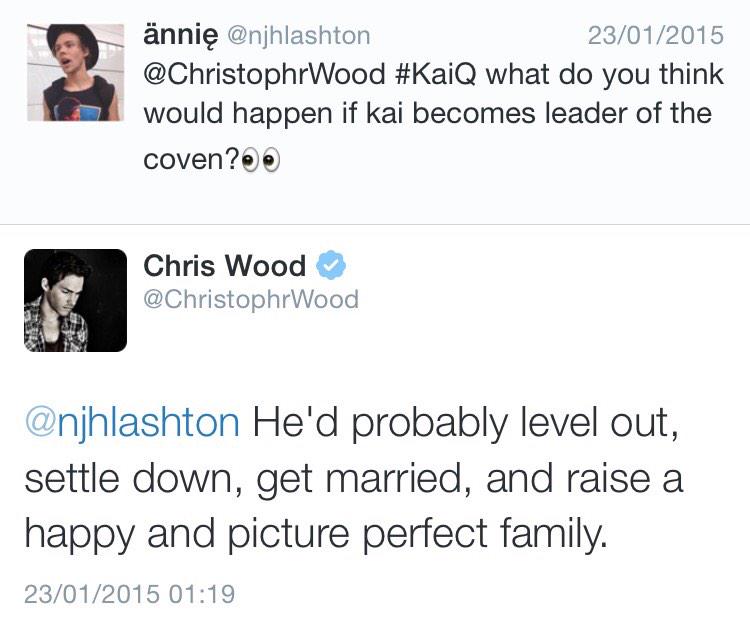 Spec on tumblr/twitter is that the merge was Plec and co's way of altering the fundamental nature of Kai. They made a point of saying that the merge results in a blending of souls into somebody new, not just a binary winner/loser equation. In theory, we have given up some indefinable amount of Kai's snarky psycopath-ousity for Luke's ability to love and be self-sacrificing. And voila! magically overnight, Kai is able to grow and change as a character.
This could be true?
I know we had specced that they would soften Kai by turning him, but making him the uber powerful witch leader of a coven who hates him is even better than just another pointless vamp on a show where the vamps ceased being scary a couple of seasons ago.
Ian and Paul both said that Chris had "some really good stuff coming up", and watching Kai gain a soul and a conscience as a kind of Kai-Luke hybrid might be what they were referring to. He could actually become *more* dangerous once he has to deal with guilt over what he's done -- for awhile, anyway. If he stops liking himself and starts hating himself, we could see some major fireworks.
And Plec REALLY loves woobifying her bad guys by having them bottom out first in some kind of major breakdown. Without the woobifying, she won't keep them around for multiple seasons. It's a decent tradeoff, I guess, maybe? Not ideal, because I'd kinda rather keep Kai unrepentantly magnificently murderpuppy forever, but I guess that's not the TVD way. If a woobie Kai-Luke is the only way Chris stays employed and on my teevee, I can make my peace with that.
Of course, the way Julie most likes to achieve woobification is saving the Bad Guy through the power of a Good Girl, which is probably the real reason they are sending SMQ off the show. There are a surprising number of BonKai shippers out there, and they are very vocal. Since Caroline and Elena are both too tied up to be of redemption-by-vagina service, Bonnie would make the most practical sense. I can get behind a Good Witch/Bad Witch romance, why not. I feel sure Chris can sell it.
ETA
This whole cancer storyline is kinda offensive given how it's been utilized to catapult a couple of romances that didn't need the catalyst.
Yeah, it's kind of gross. If Candice Accola wasn't such a fabulous cry-er, I'd be less into this whole thing. As it is, I love her face and I love it sad, so I'm overlooking the gross parts.
As for the D/E aspects, it doesn't really matter what they use to drag this flaccid ship around and prop it up. I'm too far past caring.