I keep wanting to hate Lemon but I seem to find myself liking her more and more!
I adore her lemon-colored hair and her forbidden love! Will they ever actually talk about the fact that the town is racist and would not want her to be with Mayor
Lavon Hayes
?
LOOK at his chest, ladies? The bigger question is why Dr. Summer Roberts doesn't want to be with Mayor Hayes!? Clearly, Dr. Summer is either blind or stupid or vaguely racist up in the CW.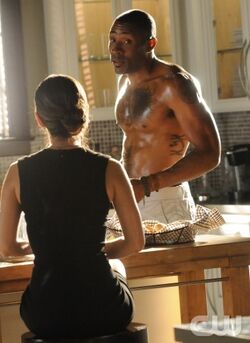 Did Lemon date Lavon while George was in NYC? And were they broken up during that time? I'm not clear if Lemon and Lavon's dating history is a complete secret. I'd guess so.
Also? I just pasted the shirtless picture of Lavon into a web news item for a client--thank goodness I realized it before making the page live! Ha!